Fall Landscapes Dawn Light Photo Tour
One Day Fall Nature Photography Tour $175.
Rated Easy
6 AM - 2 PM

Dawn light on fall colors creates some of the best fall photo ops. Warm morning light, softened by morning moisture and mist helps the glowing colors radiate in shades of red, yellow, and go. This one day nature photography tour will begin on location at an ideal location for the weather. Later we'll travel to other destinations that are all within about a half hour radius of our starting point. The photo locations through the day will include landscapes along the water, in the woods, and in the open.
Colors are generally at their prime in the Adirondack foothills in early October. Weather can be crisp and clear with morning frost, but can also be drizzly or rainy with overcast days. All weather works well for fall colors, since leaf colors tend to saturate nicely when they are wet and the lighting is soft and moody. All types of lens equipment could be used from macro / extension tubes to wide angle and telephoto. Please bring along an umbrella and wet weather protection for potential showers.
Photographer, Carl Heilman
, has been photographing the Adirondacks since the mid 1970's and has been working with digital image files since 1997. He has led photo workshops since the early 1990's and has been presenting photography workshops in Brant Lake since 1997 through Wild Visions, Inc. His coffee table books on the Adirondacks, Lake George, New York State, and Maine have been published by Rizzoli, Voyageur Press, and North Country Books. His AV programs have aired on regional PBS stations, and he was interviewed for the May 2008 national
PBS special, 'The Adirondacks
'. His photo techniques book,
The Landscape Photography Field Guide
(2011 Focal Press), and
101 Top Tips for Digital Landscape Photography
are comprehensive books about landscape photography techniques.
Photographing the Adirondacks
(2013 Countryman Press), is a regional guidebook to more than 200 photo locations throughout the Adirondack Park.
This nature photography tour is rated EASY
- most of the photography will be reasonably close to the road, but a couple of the potential locations might require walking over moderately rough or rocky terrain, with hikes up to about a 1/2 mile. There won't be anything very steep, but we may be doing some hiking.
A maximum of 6 participants, allows plenty of opportunities for individual interaction throughout the day on the different photo shoots.
The tour fee includes all instruction and any handouts - but does not include lodging or additional meals. Please bring along whatever you would like for food and drink through the day. We will carpool as needed to photo locations.
We look forward to photographing with you and working with you on this nature photography tour.
Please contact us with any questions!
Wild Visions, Inc., Brant Lake NY, 12815 photos(at)carlheilman(dot)com 518-494-3072 M-F 9-5 Eastern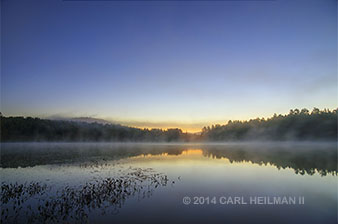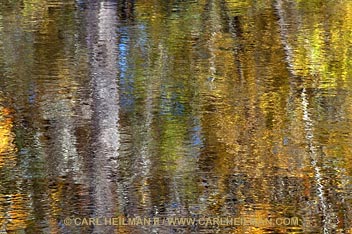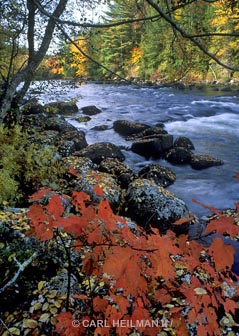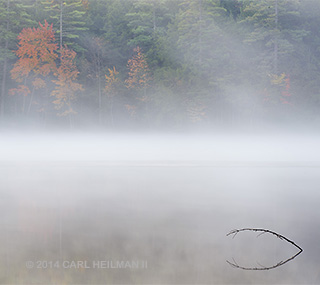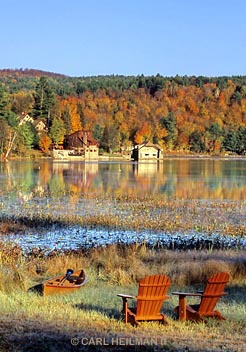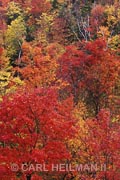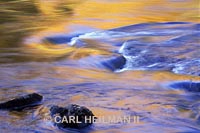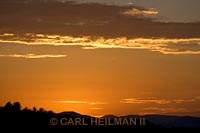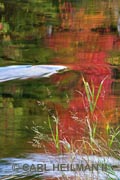 The meeting location could be anywhere in the eastern, central, or High Peaks area depending on the weather and how fall colors are looking in the area. There will be full info in an Email a couple of days ahead of the date with a meeting location and other tour information.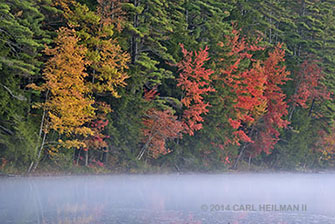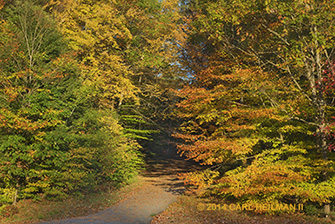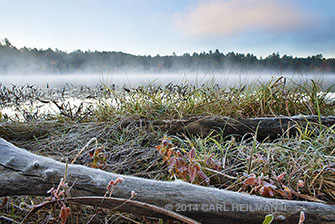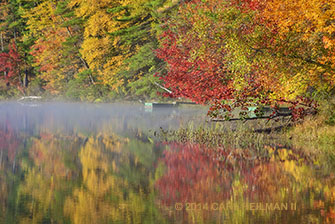 This nature photography tour is designed for those who are already comfortable with camera basics such as the relationship between aperture, shutter, and ISO settings. During this 8 hour day we will start out with a very brief introduction / discussion and then will have most all day to experiment with photo techniques in the field at nearby photo locations. Carl is available throughout the day to answer any questions and work with particiapnts. Sunrise is about 6:55 AM. Often the best photo conditions are a half hour or more before the actual sunrise, so meeting at 6 AM will give a little time for a brief introduction and a few questions before we start shooting.